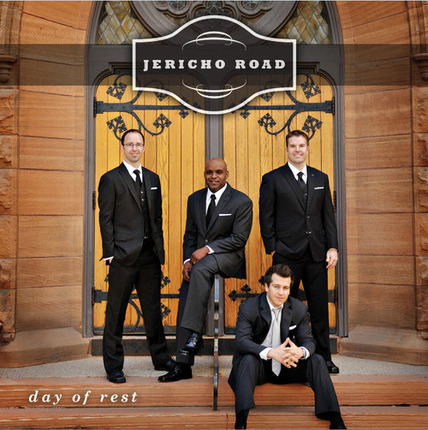 Product Description
After a break of several years Jericho Road is back, debuting its first-ever hymn album, Day of Rest. Abe, Justin, Bret, and Dave have entertained audiences all over the world for years with their infectious combination of rich harmony, smooth beats, and uplifting messages. Now they demonstrate their more reverent side, with beautiful arrangements of favorite hymns. Day of Rest features songs perfect for the Sabbath, including "I Need Thee Every Hour" and"Beautiful Savior." Invite the Spirit into your home anytime with these musical messages of faith and hope.
Reviews
Great album for peaceful contemplation and reflection.
By Zuriel, Submitted on 2015-02-25
Friday night I had an opportunity to hear Jericho Road sing at Time Out for Women in Boise. I have their music since they began. Bought this album, brought it home and found it to be the best ever. The music choices are great and everything works. Wonderful for Sunday or any time one needs soothing, inspirational music. They are some of my favorites. Thanks, guys, for all you do and for your sweet testimonies.
Absolutely beautiful!
By Natasha, Submitted on 2015-02-25
Absolutely beautiful!!!! The way they sing these hymns touches my soul! They sing them in a way where you can truly believe they feel what they sing! You can just feel their testimonies!
Awesome voices!
By Alethea, Submitted on 2015-02-25
This cd is amazing! I love all the voices of Jericho Road and how they harmonize. My favorite song on this cd is "Were You There". I would suggest this cd and any Jericho Road cd to anyone of all ages. It is very inspiring. It's a perfect cd to relax to on a Sunday morning or afternoon.
Amazing vocals
By Kimber, Submitted on 2015-02-25
Soft, peaceful songs with amazing vocals. My new favorite CD! These guys are truly talented!
GREAT CD: Day of Rest :)
By Angela, Submitted on 2015-02-25
I Love this cd, it is beautiful ;) I love he lyrics & music!! :) It helps u to appreciate good music
It does not get any better than this
By Tauni, Submitted on 2015-02-25
The word "Peace" comes to mind when I listen to Jericho Road music. Sometimes life can get crazy, there are trials, and things can bring you down.
When I find myself losing hope, wondering what life is about, or just need a boost, I can always count on turning on their CD and I feel a calmness and a warm feeling enter my heart and mind and the rest of the day seems peaceful.
They not only sing well together, do great on vocals, and actually live the life they sing about.
Write a Review