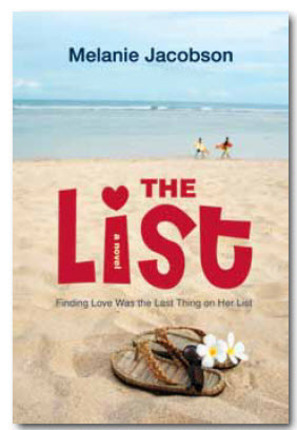 Product Description
Ashley Barrett doesn't want to get married. At least, not anytime soon. She doesn't care how many of her friends and family members and fellow churchgoers had weddings before they finished college — the last thing she needs in her fun-loving twenties is the dead-weight of some guy. And that's why she created The List. By the time she completes all twenty-five goals — from learning a language to skydiving to perfecting the art of making sushi — she'll be more ready to settle down. Maybe.
This summer in California is a prime time for Ashley to cross two items off the list: learn to surf (#13) and have a summer romance (#17). And Matt Gibson, the best surf instructor in Huntington Beach and the most wanted guy in the singles ward, is the perfect man for the job. Ashley hatches a plan to love him and leave him before heading off to grad school in the fall (#4, get a master's degree). But when Matt decides he doesn't like the "leaving" part, Ashley's carefully laid plans are turned sideways. Now Ashley faces an unexpected dilemma: should she stick to the safety of The List, or risk everything for a love that may tie her down — or might set her free?
Product Details
Paperback
eBook
Reviews
funny, witty chick lit
By annie, Submitted on 2015-02-25
I flew through this book, the writing is a crack-up. Great main character, the perfect scratch for your romantic itch. I'm giving a copy to my niece in college for her birthday.
A great "dessert" book
By Jenny, Submitted on 2015-02-25
I read "The List" in just a couple of days and was thoroughly entertained the entire time. This book is a light read - a romantic comedy that won't change your life or alter your perspective, but is fun and engaging just the same. It's like dessert - not necessary, but so much fun. The quality of writing is also really great - natural dialog, good pacing. I fell quite naturally into the story and found the author's style easy, refreshing, and fun. If you need a book to lighten the mood, this would be a great pick.
Wonderfully witty and fun summer read!
By Rebecca, Submitted on 2015-02-25
This book was a perfect walk down memory lane for me. I think I loved it because I could relate to the main character on so many levels. Now that I'm done reading, I feel like it's the end of a long day at the beach and all I want to do is stay to watch the sun go down...not drive home in traffic. Sometimes you truly like characters enough that you never want it to end and Melanie did a great job of drawing her's out for me.
Look for similar items