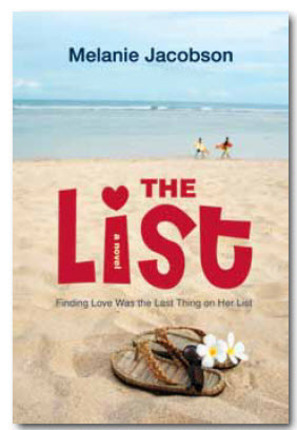 Product Description
Ashley Barrett doesn't want to get married. At least, not anytime soon. She doesn't care how many of her friends and family members and fellow churchgoers had weddings before they finished college — the last thing she needs in her fun-loving twenties is the dead-weight of some guy. And that's why she created The List. By the time she completes all twenty-five goals — from learning a language to skydiving to perfecting the art of making sushi — she'll be more ready to settle down. Maybe.
This summer in California is a prime time for Ashley to cross two items off the list: learn to surf (#13) and have a summer romance (#17). And Matt Gibson, the best surf instructor in Huntington Beach and the most wanted guy in the singles ward, is the perfect man for the job. Ashley hatches a plan to love him and leave him before heading off to grad school in the fall (#4, get a master's degree). But when Matt decides he doesn't like the "leaving" part, Ashley's carefully laid plans are turned sideways. Now Ashley faces an unexpected dilemma: should she stick to the safety of The List, or risk everything for a love that may tie her down — or might set her free?
Reviews
Great ride on the wave of this Light romance!
By East Coast Susan, Submitted on 2015-03-21
Fun story about learning to trust and learning to let go of things that get in the way of relationships.
A summer fling turns complicated as a long-term bucket list of tasks gets in the way of 'real' life and love. The developing romance and the gradual unfolding of the relationship as the MC gradually get to know each other made for a engaging and fun read. The beach setting with surfing as a background, made for an interesting setting. Well done and worth a second read.
Loved the beach setting, highs and lows in the story were just like the surf...How was this romantic wave going to close out? A crash and burn, or a subtle roll over into something sweet?
The internet dating scenario mentioned was fun,and cute. Matt (H) was sweet. Ashley subtle machinations trying to get him to be her summer fling and denying her growing feelings as they had fun dating and Ashley learning to surf. Her confusion and realization as she is in the middle of her school life, was so sweetly realized and told. Her "List", and Matt's help with it, his motivations, his real persona, his real feelings, were hard for her to accept. It was a wonderful end, and just like surfing, she had to learn to read the waves, and get her feet under her to ride the "wave" and surf to a final finish.
Light, romantic, and fun!
Laugh out loud funny and so true it hurts
By Amanda, Submitted on 2015-02-25
This book made me laugh out loud! Love all of her work but this book really made you feel that the characters were real because of their not perfect portraits. Fabulous read!
Fun and witty easy read that you won't want to put down.
By Leslie, Submitted on 2015-02-25
Melanie Jacobson does a great job of creating characters that you love. The plot is a little predictable but of course at the end, there's a twist. A great tale of young summer romance that reminded me of my youth. I couldn't put the book down and finished it in a day. Now I want a sequel!
Cute, fun book
By Frances, Submitted on 2015-02-25
The List was a fun, romantic comedy. I can't recommend most LDS fiction books because they are so bad but this one is surprisingly good. It's not going to change your life but it will be a fun read.
Delightfully fun!
By Karen, Submitted on 2015-02-25
The List is the kind of fun, romantic, and funny book you'll want to throw into your bag when you're heading out for the beach or the lake. Melanie Jacobson has created characters that are interesting and that you really want to root for. Her dialog is witty and entertaining. I couldn't put this book down!
Fun and Enjoyable Read
By Sheridan, Submitted on 2015-02-25
I thought it would be perfect to save this book for my upcoming cruise. I tried to read the first chapter to just get a taste. Well, I couldn't put it down, so I guess I need to find a new book for my cruise. :)
I really loved the main character and her determination. I wanted to cheer her on. "You go girl, you finish your list before getting tied down by marriage and the kids which are the real ones that tie you down!" But at the same time I was yelling at her to just be open to love, that it matters more than a stupid list.
I also enjoyed Melanie's writing. Upbeat, light and fun.
When she referred to Guacamole as "squishy, green goodness" I had to smile and then go eat some.
This is a perfect book for a cruise. I wish I had another of Melanie's Books to read. Apparently being at home is a great place to read it too.
Delivers exactly what you want in a Chick Lit
By Laura, Submitted on 2015-02-25
A fun, quick read (I read it in one night) that delivers exactly what Melanie Jacobson promised. The characters are interesting and original. The dialogue is quick, engaging and very entertaining. Yet you still feel "swoony" during the romantic scenes. A great book that keeps you excited for the end!
Loved it!!!!
By Makinzee, Submitted on 2015-02-25
I absolutely loved this book. It made me laugh out loud so many times. I started reading it while I was working and could not put it down! It just completely pulled me into the story. I've started writing my own list of things I want to do, and it's so fun finding ways to cross them off. Anyway, it's just amazing!
Wonderfully witty and fun summer read!
By Rebecca, Submitted on 2015-02-25
This book was a perfect walk down memory lane for me. I think I loved it because I could relate to the main character on so many levels. Now that I'm done reading, I feel like it's the end of a long day at the beach and all I want to do is stay to watch the sun go down...not drive home in traffic. Sometimes you truly like characters enough that you never want it to end and Melanie did a great job of drawing her's out for me.
A great "dessert" book
By Jenny, Submitted on 2015-02-25
I read "The List" in just a couple of days and was thoroughly entertained the entire time. This book is a light read - a romantic comedy that won't change your life or alter your perspective, but is fun and engaging just the same. It's like dessert - not necessary, but so much fun. The quality of writing is also really great - natural dialog, good pacing. I fell quite naturally into the story and found the author's style easy, refreshing, and fun. If you need a book to lighten the mood, this would be a great pick.
funny, witty chick lit
By annie, Submitted on 2015-02-25
I flew through this book, the writing is a crack-up. Great main character, the perfect scratch for your romantic itch. I'm giving a copy to my niece in college for her birthday.
Look for similar items