Train Up a Child (9x10 Framed Art)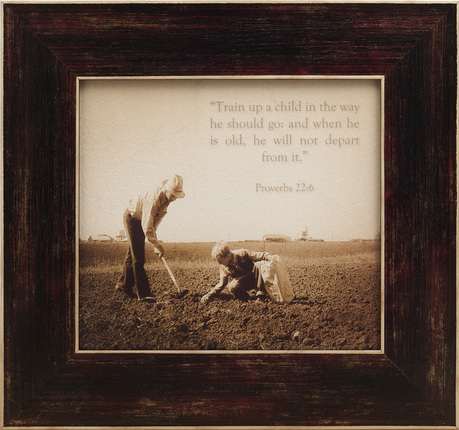 This product is currently unavailable.
Product Description
Dorothea Lange was born in Hoboken, New Jersey, in 1895 and studied photography in New York City before the First World War. In 1919, she moved to San Francisco, where she earned her living as a portrait photographer for more than a decade. During the Depression's early years Lange's interest in social issues grew and she began to photograph the city's dispossessed.
This image was taken on the outskirts of Salinas, California where a father and son were planting potatoes. Friend Ron Partridge described how Dorothea would capture images like this.
"She would walk through the field and talk to people, asking simple questions--what are you picking? . . . How long have you been here? When do you eat lunch? . . . I'd like to photograph you, she'd say, and by now it would be "Sure, why not," and they would pose a little, but she would sort of ignore it, walk around until they forgot us and were back at work."
While Proverbs 22:6 teaches us to "train up a child," Dorothea Lange's photograph shows us it's accomplished through example and not by word alone. Each image is backed with an easel frame for table-top display or can be hung on the wall.