Zack & Zoey Explore the Articles of Faith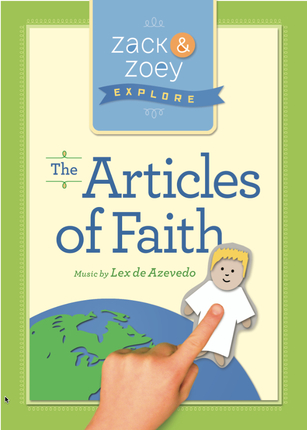 Product Description
Join Zack and his sister, Zoey, as they explore each Article of Faith. Charming illustrations and animation bring the doctrine to life in a way that children will understand and enjoy.
Sing the Articles of Faith!
All-new Articles of Faith songs by Lex de Azevedo
Sing along with the children's choir and orchestra
Songs are inspiring, playful, and easy to remember!
Golden-Globe nominated composer Lex de Azevedo (Saturday's Warrior, My Turn on Earth, Gloria, Hosanna) and the producers of Signing Time present the Articles of Faith in a fresh new way. Go beyond memorizing to enjoying, understanding, and testifying of truth.
Reviews
Great Missionary Tool
By Connie, Submitted on 2015-02-25
Great way to teach young kids about what we believe in. My four year old loved it so much he invited his non member friend over to watch his favorite movie. As they watched it together my son explained what a bishop and a missionary is to his friend. The songs are catchy and fun to sing along to. I love this movie.
Great for families with young children!
By Joyce, Submitted on 2015-02-25
What better way to learn about the Articles of Faith, than through great music and songs. Zoey is amazing as she teaches her younger brother Zack about the Articles of Faith. As Zoey explains what each of them mean she does it in a simple easy way for young children to understand. The children they interview are charming and the songs are fantastic. I can't wait to share this with my grandchildren! I highly recommend this DVD to all parents and grandparents.
A must have!!
By Michelle, Submitted on 2015-02-25
This is a DVD your children will want to watch over and over. You will find that your children will be singing and reciting the Articles of Faith throughout the day. SO much better than memorizing and singing the latest pop tune. One great bonus of this movie is that in addition to learning the A of F, your children will see other children of all different ethnicity singing, playing musical instruments, dancing, doing sign language and sharing their feelings. What a fun way to inspire your children to develop their talents.
Look for similar items